So, we're already halfway through 2019.
Can you believe it?
From our standpoint, this year has flown by.
Lots and lots of activity will do that.
Without further ado, let's take a look at the numbers…
Quick Central Indiana Rental Market Overview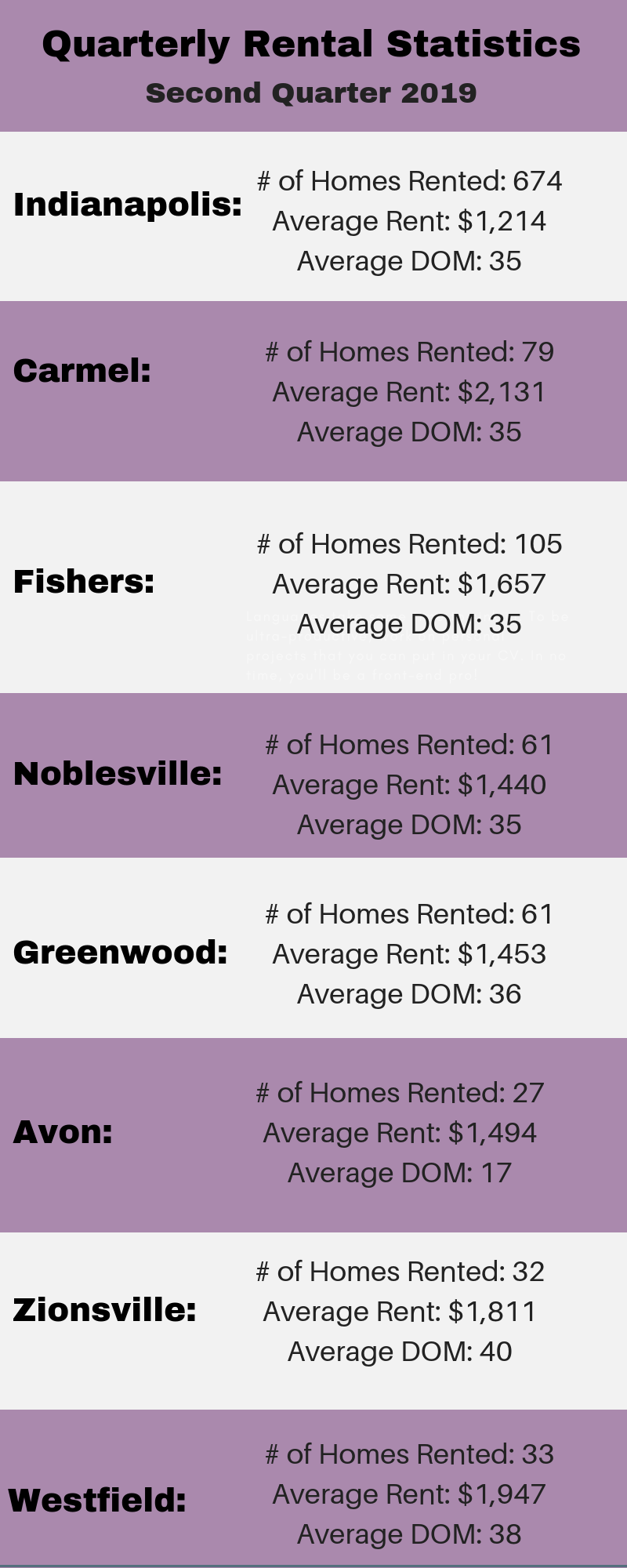 There were no specific stats that stood out this past quarter. While the overall numbers are a bit down, the rental market is still strong and performing well.
For example, Indianapolis saw 674 homes rent in the 2nd quarter (according to stats from the local MLS system), which is a slight decrease for Q1 of this year, which saw 710 homes rent. It's also down from Q2 of 2018, which saw 748 homes lease.
Rental prices remain steady (average rent of $1,214 this past quarter vs. $1,236 the same quarter last year) while days on market fell slightly to 35 days from 38 in Q2 of 2018.
T&H Realty Services' Perspective
While the overall market remained steady, our workload at T&H was anything but steady.
Due to our continued growth, we broke records in nearly every category during the 2nd Quarter, including:
Number of rental showings
Number of rental applications received
Number of Leases signed
Number Move-Ins
Number of Move-Outs
To say our Staff was busy is an understatement.
Fortunately, our Days on Market were outstanding, as we averaged just 25 days on market (including just 17 in June). This is compared to an average of 35 days in the quarter from our collective competition.
And, really, things haven't slowed down much at all.
In spite of technically being out of our "busy season" we don't expect activity to slow down all that much.

Time to Get Aggressive?
For those experienced Central Indiana Landlords out there, you know that our rental market is seasonal. Most school systems in our area resume classes later this month and, with that, we always see a slow down in activity.
What does that mean for you as a Landlord?
Well, if you have a current vacancy, or will have one in the near future, you'll want to take our seasonality into account.
In some cases, you'll want to get aggressive with you pricing, as the supply of potential Tenants naturally decreases.
If you are one of our Clients, we'll certainly work with you to ensure your property is priced optimally in order to reduce your vacancy period.