Carmel, Indiana is a northern suburb of Indianapolis located in Hamilton County with an estimated population of 97,464.
And, before we go any further, Carmel rhymes with Marvel. Natives get pretty touchy about incorrect pronunciations.
Carmel has some pretty big claims to fame, being named one of the best places to live in the United States for multiple years, by multiple publications.
It's known in some circles as the "Beverly Hills of the Midwest."
It was platted in 1837, primarily settled by Quakers, and was originally called Bethlehem.
The name was later changed to Carmel in 1846 and officially incorporated in 1875.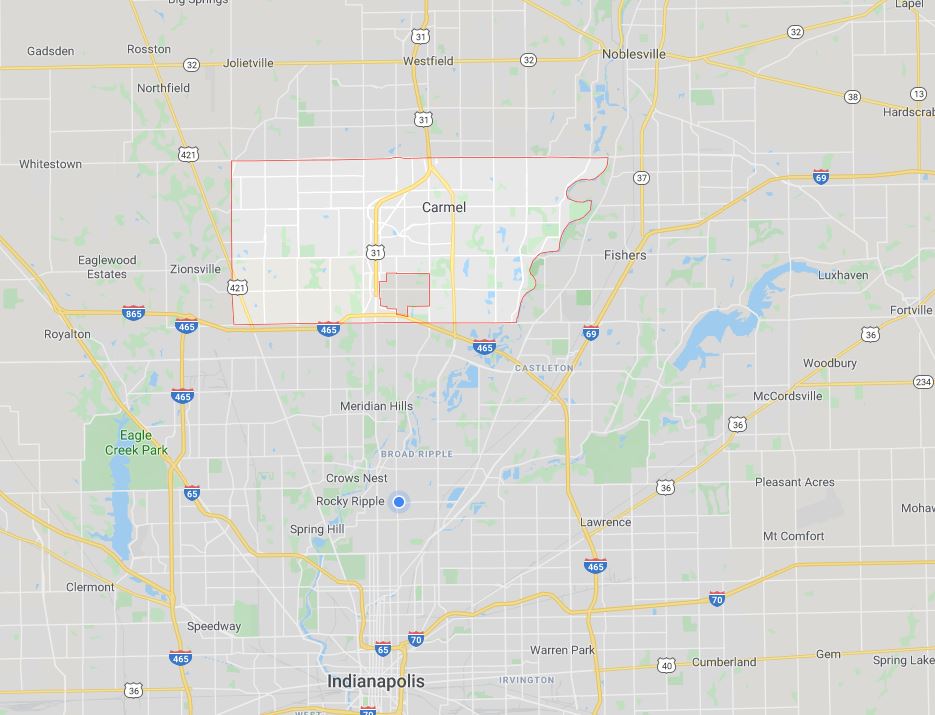 Fun Fact: One of the first automatic traffic lights in the country was installed at the intersection of Main Street and Rangeline Rd. However, since the 90s, Carmel has been replacing intersections with roundabouts of which there are currently 140.
Carmel now has more roundabouts than any other city in the U.S. 
According to Data USA, the median household income is $112,765 with median home values of $333,200 and average rent amounts of $1,404.
Niche reports 76% of residents own their homes compared to 24% who rent.
Niche also ranks it the #1 place to live in Indiana, the #1 place to raise a family in Indiana, and #1 school district in Indiana.
Carmel, Indiana Zip Codes
46032
46033
46074
46077
46082
46260
46280
46290
Carmel, Indiana Neighborhoods
Brighton Woods
Bridlewood
Heather Knoll
Claybourne
Cedar Lake
Carmel Arts District
Woodfield
Village of West Clay
Carmel, Indiana Schools
As you can probably guess, the Carmel school district is rated an A+ by Niche with the breakdown as follows:
Academics: A+
Teachers A+
Clubs and Activities: A+
Diversity: B
College Prep" A+
Health and Safety: A
There are approximately 16,664 students in grades PK-12th with a student-teacher ratio of 19-1.
It's ranked the best district for Athletes out of 294 districts, #3 out of 290 for best schools districts in Indiana, and #23 out of 289 for districts with the best teachers in the State.
Carmel, Indiana Crime Rates
Best Places reports property crime in Carmel to be an 18 and violent crime to be a 7.1 based on a scale from 1 (low crime) to 100 ( high crime).
These are the lowest crime rates of any area we have discussed yet.
Conclusion
As you've probably already guessed, Carmel offers investors little to no hope of cash flow.
This is not an area that typically meets many investment goals.
While it's obviously a very attractive market for Landlords from a Tenant quality perspective, the numbers rarely make sense.
As far as our brokerage experience goes, we haven't assisted too many buyers with Carmel purchases and I don't expect that to change anytime soon.