As we cross the halfway point of 2020, it's not an understatement to say that this year has been much, much different from others.
Like, not even close.
COVID-19 has brought on an incredible amount of anxiety for both our Owners and Tenants. 
As a result, we've written several blogs and created an entire web page devoted to Covid-19. If you haven't already, be sure to check it out.  
But, here's the strange thing: if you just looked at the rental statistics for the year, you would have no idea that a global pandemic was raging across the Country.
In other words, rental activity, generally, hasn't missed a beat.  
Let's examine the numbers a bit.
Quick Central Indiana Rental Market Overview

In total, we saw 1,053 homes lease through our MLS system within the 8 areas we track each quarter. That's a very slight decrease from the 1,072 homes that lease in the 2nd quarter of 2019.
Meanwhile, in Indianapolis, a total of 701 homes leased through out local MLS system, which is an increase from the 2nd quarter of 2019, which saw 674 homes lease.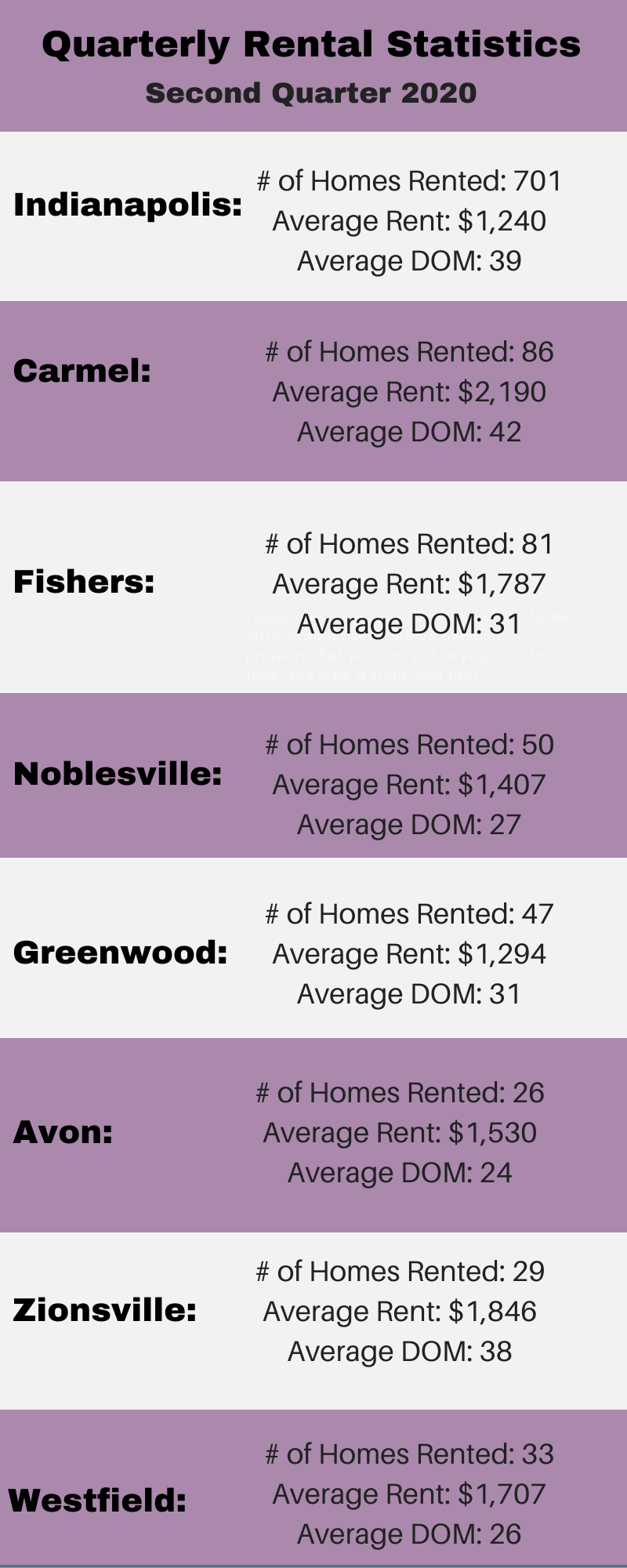 So, as far as volume is concerned, we're extremely close to 2019 levels, which has to be encouraging to Landlords. 
Average rents were slightly lower ($1,625 in 2nd quarter, 2020 vs. $1,643 in the same quarter of 2019). 
Days on market were essentially the same as well: 32.3 in Q2, 2020 vs. 33.9 in Q2, 2019.
So, again, Landlords have to be feeling pretty good about things right now.
T&H Realty Services' Perspective 
Fortunately, as we've mentioned previously, we are very much set-up to conduct business remotely.  
Rent collections, always a hot topic among our Owner Clients, is surprisingly strong as well. 
Collection percentages, which, in a normal environment, run 99%+, are still in the high-90% range. 
And while we are currently in an eviction moratorium, there are very few Tenants that we would need to evict any way.
It's difficult to determine if this trend will continue. We're certain that many Tenants have used stimulus money, for example, to pay their rent.
In addition, we're also certain that many Tenants have benefited for the unemployment bonus, which is set to expire at the end of July.
indianapolis Tenants rights and responsibilities

If you subscribe to our Blog, you already know about a new requirement for Indianapolis Landlords, which began on July 1.
Please take a moment to ready about it here: