It's hard to believe we've already finished up the first quarter of 2019. 
While there are no major surprises this time around, there are a few things to take note of.
I'd also like to take a moment to point out that these numbers come straight from the MLS, and obviously not all rental properties are listed there. While this analysis isn't comprehensive, it definitely gives a great overall look at how the market is performing. 
Lets take a look at the numbers… 
Quick Central Indiana Rental Market Overview

Overall, the rental market in Central Indiana remained steady. This steady rental market is one of the main reasons investors continue to pour into our state in search of rental homes.
In short, no major swings to speak of.
In total, there were 1,074 homes leased with an average rent rate of $1,300 and average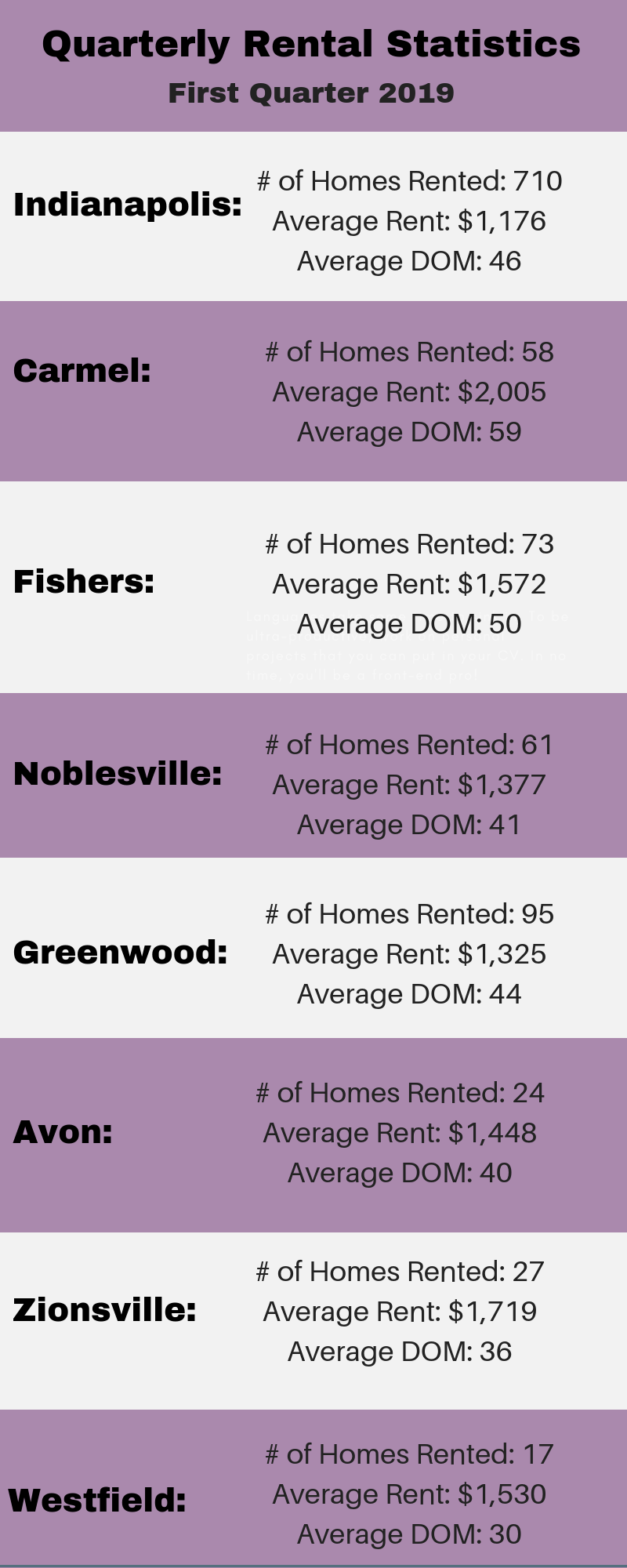 days on market at 46 this quarter. The number of homes leased saw an uptick compared to last quarter in every area except Avon and Westfield. 
This quarter was not quite as active as Q1 of 2018 as far as the number of homes that leased, but Indianapolis, Noblesville, Greenwood, Avon, and Westfield saw a slight rise in average rents year over year. 
Days on market also trended down from Q1 of 2018. For example, homes in Indianapolis took 49 days to rent in Q1 of 2018 vs. 46 this past quarter.
So, again, fairly steady, overall. 
T&H Realty Services' Perspective 
We always say the rental season starts in January and – WOW – did it ever for us. 
While January wasn't crazy busy, we broke a record for applications received in February… and then broke it again in March.
As a result, we're signing Leases at a record pace as well.
Yes, it's very, very busy.
The Pivotal 2nd Quarter
As most of you know, Indiana is a seasonal rental market.  For those of you who have a current vacancy, or will soon, renting your home in the second quarter of the year is a wonderful thing.
This will set up your rent cycle nicely and allow you flexibility with your investment… whether you choose to re-rent or sell. 
Our managed rental marketing program is extremely comprehensive, so please know that we're working hard to fill your vacancy with a highly qualified Tenant. 
And, as always, feel free to reach out with any questions whatsoever.