When you become become a Landlord, you are entering into a business.
This is a sentiment that we have echoed time and time again, and will continue to do so.
Having the right mindset from the get-go is vital to running a successful business. To that end, we do our best to ensure all our Clients understand what they are getting into when they become rental property owners.
Another key to running a successful business, is having the proper tools.
We provide these tools in the form of our Owner Portal.
This business system is the most valuable resource that you will have access to as a Client of ours.
We believe in 100% transparency with our Owner Clients.
And the Portal helps provide that.
Essentially, the Owner Portal is an online account that you can access 24/7 to see anything and everything related to your properties.
Whether it be financial statements, Work Orders, Estimates, Lease Agreements, etc., you can see it all within this system.
This tool gives you the power to track the performance of your business with the click of  a button no matter where you are or what time it is.
Let's dive a little deeper into everything the Owner Portal has to offer.
My Account
When you log into your account, the default page is the My Account Tab. There are a few things to consider here…
Set My Photo. We encourage you to click this link, which will allow you to link your Facebook profile image to the Portal. It adds a nice touch of personalization. You'll notice that we do the same.
Community Message Board. This is where we post important updates or notices that you'll want to read. In addition, we provide a link to our Owner Resource Page, which we encourage you to bookmark. This page is loaded with great information that we're sure you'll find beneficial.
My Contact Information. This is your basic information that you can easily change when necessary.
When it comes to conversations on your account, this feature is no longer available for future conversations. However, you are able to view any previous conversations if you need to look back to reference anything.
If you have any future questions or concerns, you are always welcome to email us at our owner email.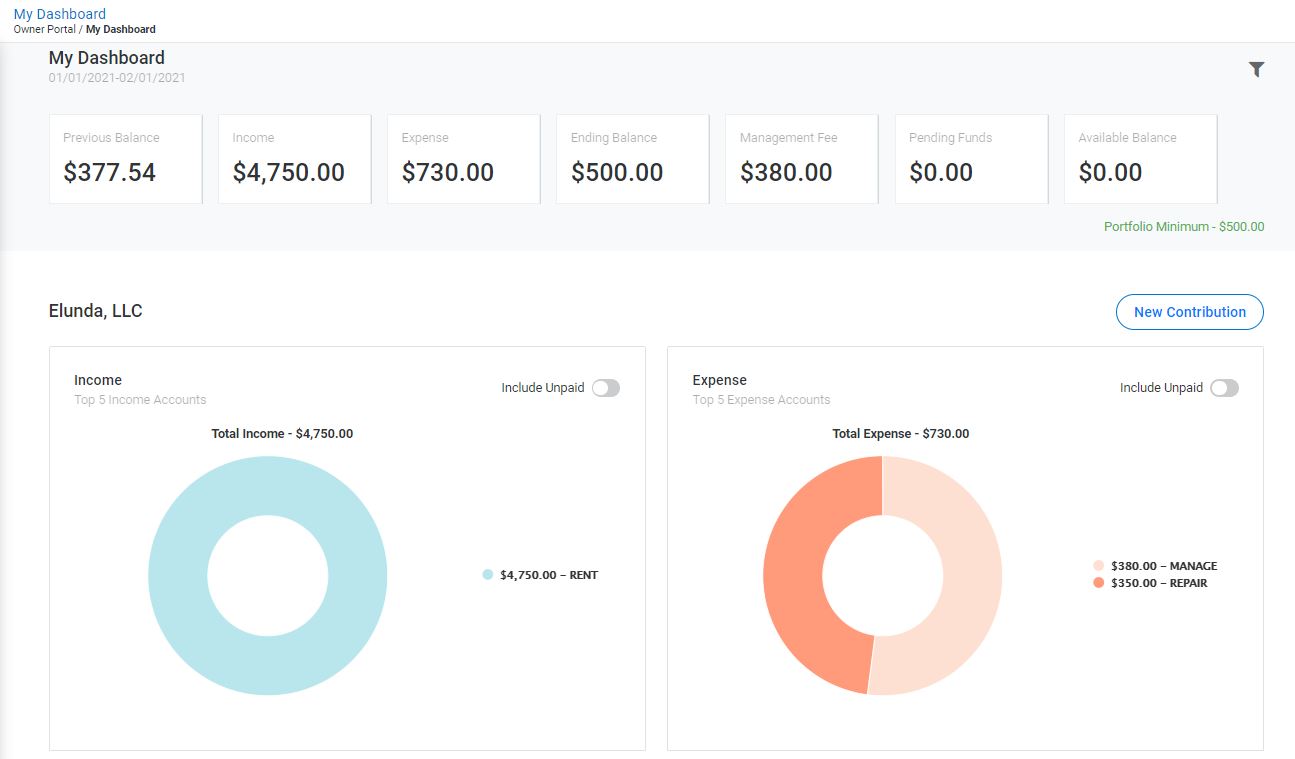 Statements
The Documents Tab is where you will find all pertinent information including your monthly and year end statement.
Documents
On the Documents Tab, you can see important documents broken down by category.
Portfolio Documents: This section includes things like your Property Management Agreements, Service Agreement Addendums, and Owner Profile sheets.
Lease Documents: This should include your signed Lease Agreements and any other documents related to your Tenants.
Evaluation Documents: These include detailed walk-through reports that we conduct for your property. This may include an Onboarding Evaluation, a Move-In/Out Evaluation and a Renewal Evaluation.
Other Document: This includes miscellaneous information that we want you to have access to that doesn't fit in any of the other categories.
So as you can see, the Owner Portal offers a tremendous amount of value to our Clients.
Pro-Tip: Use the

or the blue Filter button to filter by time period.
You can download and save these documents at any time. Keep in mind that your annual statement will also be stored here. You'll definitely need this statement to help with your annual tax return.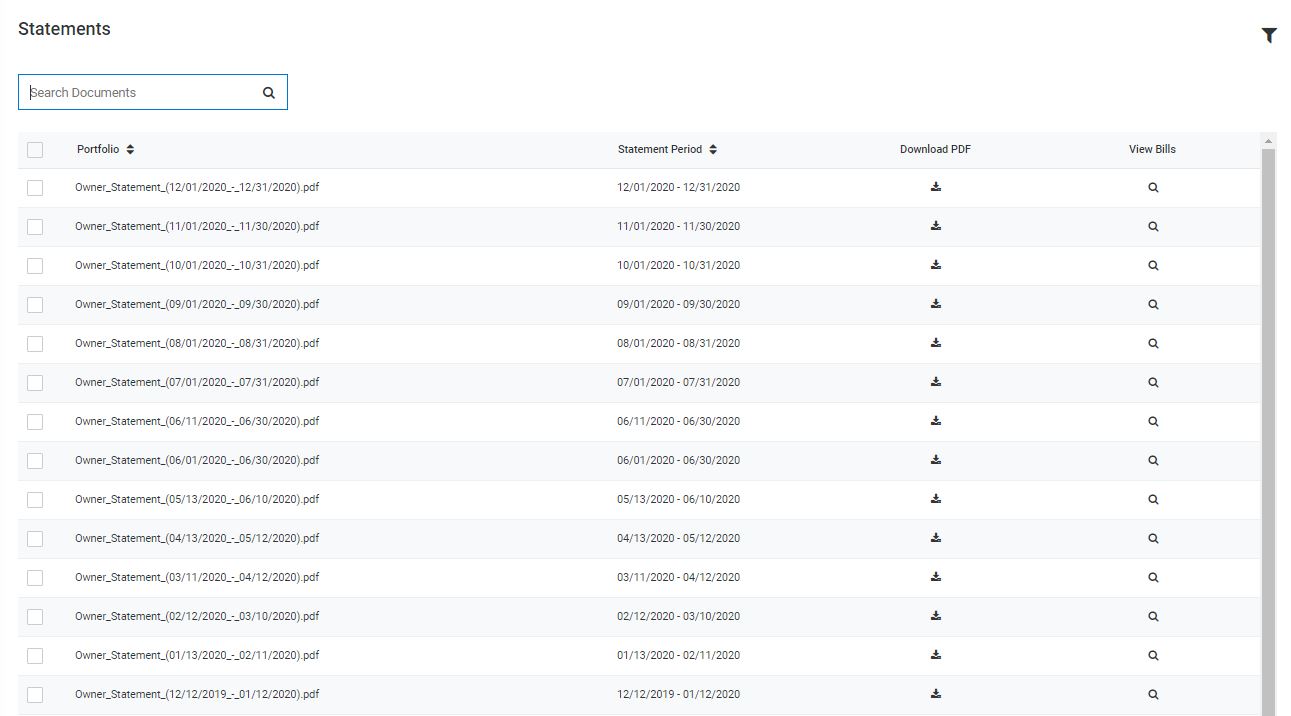 Reports
This page is where you can see reports related to your Portfolio. We provide a standard report that most Clients want, but we can create customized reports if you need them. Just ask and we'll do our best to provide what you need.
These reports use real time data, so they are always up-to-date.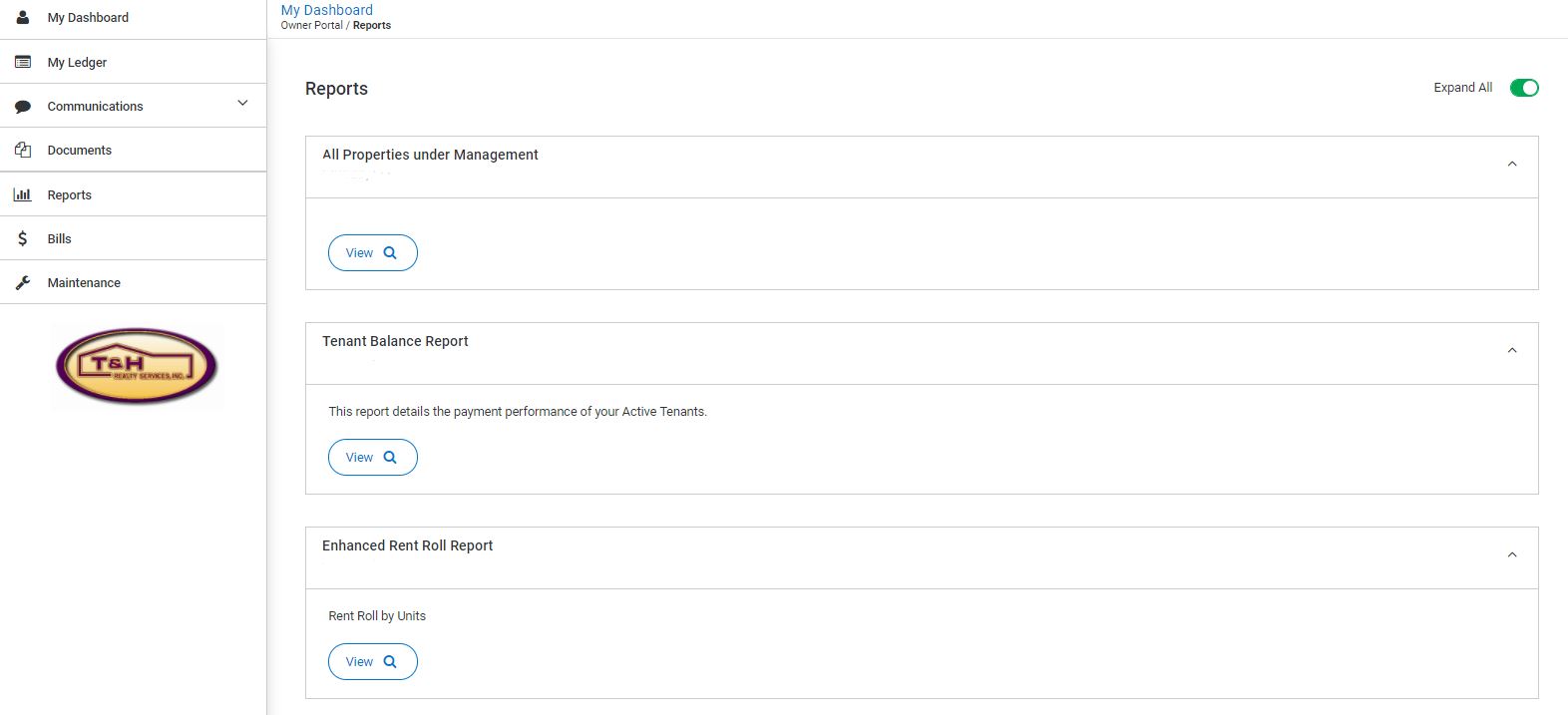 Bills
The Bills Tab is where we will post any and all bills associated with your account.
Be certain to review the "Filter By:" options to ensure that you find what you need.
This page offers a quick, top level view of the bill. By choosing the "View Detail" dropdown beside the bill, you can see more detail, including, in some cases, the invoice from the Vendor.
For bills involving utilities, lawn mowing, snow removal, HVAC clean & checks, etc. you will likely not see an attached invoice, since these Vendors will list multiple properties on the same invoice.
However, for bigger jobs specifically related to your property (i.e. painting, house cleaning, etc.), you will see the attached invoice.
All work orders will be completed by our T&H Maintenance Department and won't have an invoice, so you will need to check the "Closing Comments" on the work order.
Note: Because of our Vendor Discount Program, you may see a 10% discount on some invoices. Per our Property Management Agreement, we retain any Vendor discounts provided.
You can learn more about how and why we retain the 10% discount here.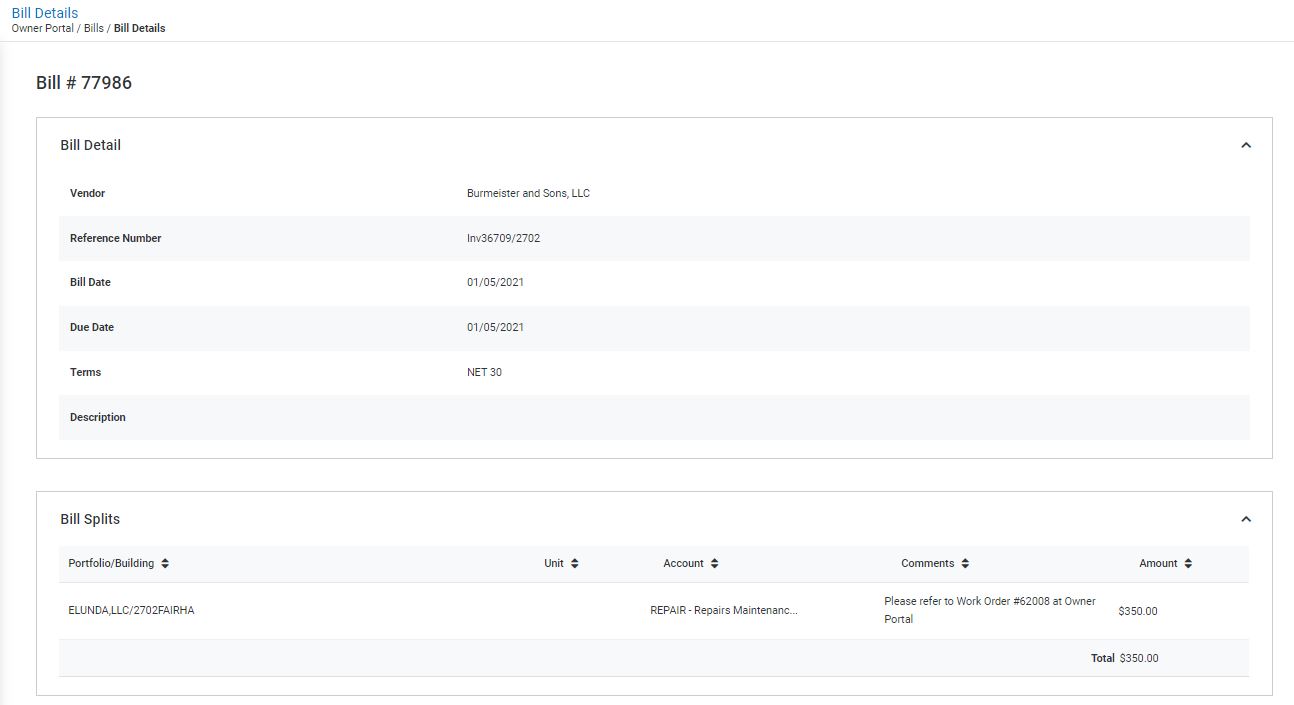 Maintenance
The Maintenance Tab is where you will find all requests submitted by Tenants and the work orders that have been opened.
Again, be sure you filter correctly to find what you need.
By either choosing the actual work order number or clicking the 3 blue dots on the far right corner beneath the "Actions" column,  you can see the details of the Work Order, any associated costs, and any related bills or documents.