Inside T&H: Using Rently to Rent Your Home Faster
*This blog is intended for Clients and Prospective Clients to further understand the Rently Self Showing System and how we utilize it to benefit our Owner Clients.*
Technology has come a long way since we started in the real estate business back in 2000.
Self-Showing services are one of many new technologies that have come to the forefront of the rental property industry in the last few years. Simply put, these services have changed the game when it comes to showing rentals.
In the not-so-distant past, we had multiple Showing Agents booked all-day long with showings around Central Indiana. We also employed part-time Agents to show evenings and weekends. If the prospect showed up 75% of the time, it was considered a success.
In addition, our Office staff spent hours and hours each day on the phone, pre-qualifying prospects and scheduling those Agents.
Clearly, it was an expensive and, frankly, inefficient system.
So, in late 2016, we decided to give Rently Self-Showing Services a try.
What is Rently?
Basically, Rently is a self-showing service that uses a smart lock box system which allows Renters to electronically schedule viewings of rental properties completely on their own. It offers Property Managers and Owners a way to automate their showing process so that they don't have to be present for every tour.
We have an in-depth blog that goes into all of the technical aspects, which you can read about here: A Property Manager's Review of Rently Self-Showing Services.
Is Rently Safe?
I know what you may be thinking, "random strangers in my property alone???"
Let me assure you that Rently has precautions in place to protect your asset.
When prospective applicants register to view the home, they are required to upload a photo ID as well as input their credit card information, and the two must match. To ensure it is a working card, Rently charges a .99 cent fee and does not allow prepaid cards. So, in case there is an adverse event where they do cause damage, we have their financial information as well as photo ID.
In all the years we've been utilizing Rently, we haven't had a single issue where damage was caused and the Owner Client suffered from it. 
Not one.
In fact, we've had multiple instances where prospective applicants have called us to report issues, such as no heat, which have actually saved our Clients from suffering damages. 
Trust me when I say, the benefits FAR outweigh the risks.
How Rently Keeps You Informed
When we take over management of your portfolio and put your property on the market, we will send you an email with a unique Rently link.
This link will give you access to a report that shows all of the activity your property receives, in real time.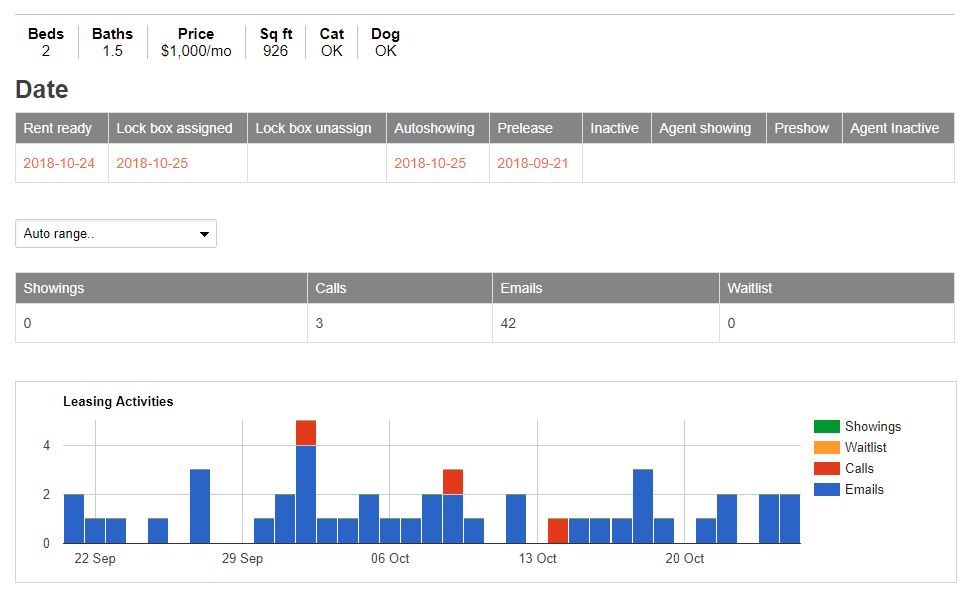 You can see call volume, emails, showings, and any feedback left by potential renters who have viewed the home.
This report provides you with a well-rounded understanding of how your home is performing in the market, and offers a quick and efficient way for you to stay informed.
How Rently Gets Your Home Rented Faster
Besides the ease of showings, Rently has another huge, added benefit:
The Wait List.
Now, usually wait lists have a negative connotation, but in this case, it's a mechanism that will allow us to basically create a fan base for your home. Here's how it works.
Let's say you sign your property over to us, but it needs a little make ready work and can't be shown. After we evaluate it, we determine it's going to take two weeks to complete the work.
Rently gives us the ability to market your home as "Coming Soon" on our website with an expected "Available Date." Interested persons can view all of the information and photos, and, if they're interested, register for the Wait List.
Once they are on the list, they will be automatically notified the minute we fully market your property and click the button to allow showings. Since they have already registered with Rently, they will be all set to go to view the home once they get that notification.
We've had waitlists for homes that have included more than 200 people!
This is an amazing tool and the benefit it has for Owners is unparalleled.
How We Use Rently to Interact with Prospective Applicants
We've already discussed quite a few reasons why Rently is a great product, but wait, there's more!
The software allows us to interact with prospective Tenants in 3 purposeful ways.
Feedback

: As I mentioned before, prospects can leave feedback after viewing your home. We have multiple staff members who are dedicated to reading through every single note we receive after every single showing.





Examples of some feedback we get are:





– "I liked the layout of the home, but the rent is too high."




– "The carpet was dirty and I didn't like the street the house is on."




– "Adorable home, perfect for my husband and me! Would like to apply."





This feedback helps us understand how people generally feel about your property and can be a determining factor for any changes or adjustments that need to be made.





And remember, you have access to this feedback as well.

 

Responding to Feedback

: We don't just read all of the feedback we receive, we also respond to it.





Whether positive or negative, we reach out to every single prospect that views your home and respond accordingly.





For example, if someone has an issue with the cleanliness of the home, we will let them know that it will be professionally cleaned before move-in, encourage them to apply, and we provide a link directly to the home specific application.





If someone says they would like to apply, we let them know how excited we are that they are interested, and again, provide a link to the home specific application.

 

Automatic Notifications

: As discussed earlier, prospects who sign up for the wait list receive automatic notifications when the home is open for showings and applications.





Similarly, prospects who have viewed your home will receive automatic text and email messages if any changes are made to your property in our system.





For example, if we determine that we need to lower the rent for your property, once we make the adjustment, everyone who has ever toured the home through Rently will be updated and provided a link to review the home again.





Rently allows us to stay in the forefront of prospects' minds, which is invaluable in this market where renters have a lot of options.
We hope you see the value that Rently provides you as one of our Owner Clients.
Our goal is to get your home rented as quickly as possible, to the most qualified Tenant, with the highest degree of professionalism.
Rently helps make that happen.