Where to Invest in Indianapolis: Anderson
Located in Madison County, Indiana, Anderson is a suburb of Indianapolis first developed in 1827.
The city has a very interesting history with its early roots in Industrialization. 
With the completion of the Indianapolis Bellefontaine Railroad in in 1852, Anderson burst to life.
Numerous industries located here such as natural gas and car manufacturers. These companies aided in a thriving economy until the 1970s when Anderson suffered a mass deindustrialization and companies like GM shut down, laying off nearly 22,000 people.
As of 2017, the population is reported to be at 55,076 and the median household income is $34,693. The median home value is $70,500 while average monthly rent is $724 according to Niche.
76.1% of the population is Caucasian with 13.1% being African-American, 5.3% Hispanic, and several other ethnicities making up a very minute portion of the population.
56% of residents own their homes versus rent.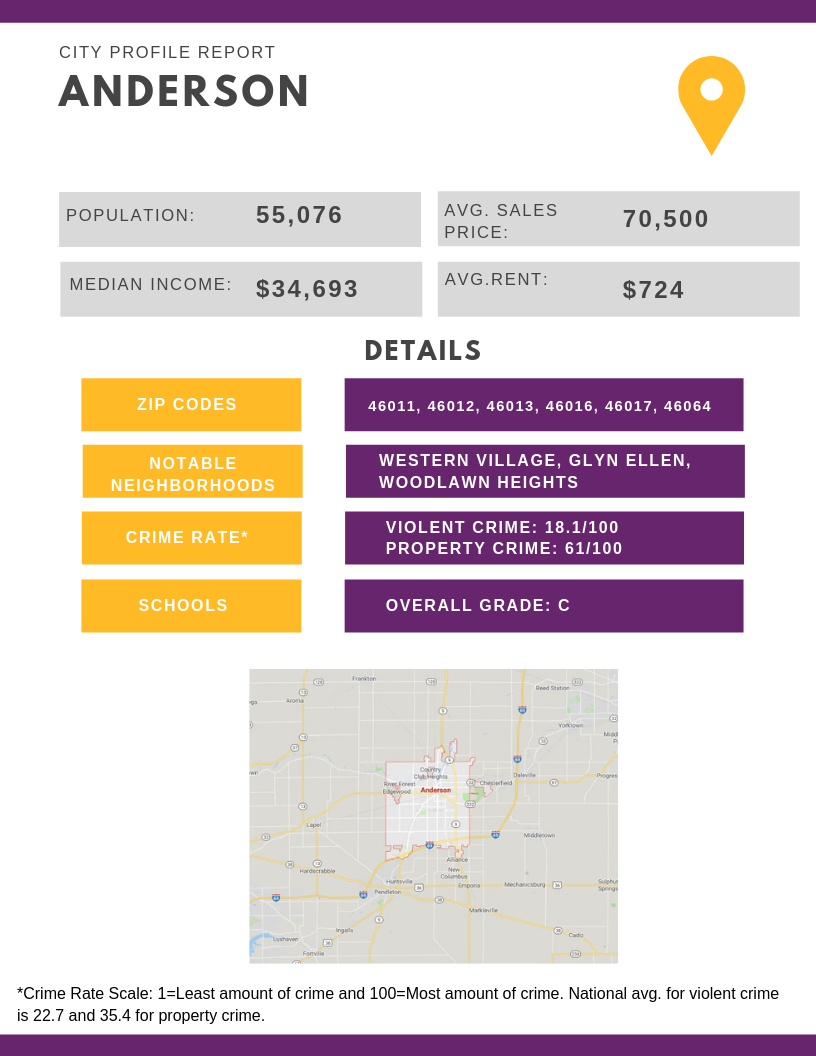 Anderson, Indiana Zip Codes
46011
46012
46013
46016
46017
46064
Anderson, Indiana Neighborhoods
Western Village
Glyn Ellen
Woodlawn Heights
Country Club Heights
Edgewood
Notable Mentions in Anderson, Indiana:
Harrah's Hoosier Park
Anderson University
Anderson Municipal Airport
Examples of Homes T&H Manages in Anderson, Indiana:
This 3 bed/2 bath 1,246 sq. ft. ranch was purchased for $103,500 and we currently have it listed on our website as a "Coming Soon" rental for $1,100/month.
We also currently manage this 4 bed/2.5 bath, 1654 sq. ft. home in Anderson and leased it out in 20 days at $1,200/month.
Anderson, Indiana Schools
Niche gives Anderson's school district an overall grade of C.
Category breakdowns are as follows:
Academics: C
Teachers: C-
Clubs and Activities: B-
Diversity: A-
College Prep: B
Health and Safety: C-
The public school district has 8,674 students from grades PK-12th and a student-teacher ration of 18-1 and they spend $9,511/student compared to the national average of $12,239.
Anderson, Indiana Crime Rates
According to Best Places, Anderson's violent crime rate is ranked an 18.1 which is below the national average of  22.7.
Property crime is ranked a 61 compared to the national average of 35.4.
The grading scale is 1-100 with 1 being low crime and 100 being high crime.
Conclusion
When you think of where to invest in Indianapolis, Anderson is likely not at the top of your list.
Although it has suffered some major economic struggles, you can get some real bang for your buck with the extremely low home values.
While you likely won't see any sort of appreciation for quite some time, you can expect to find cash flowing deals.
We've just more recently(within the last 2 years) branched out into managing the Anderson area. Our experience so far has been positive and vacancy has been relatively low.